Love and Monsters (2020)
Cast: Dylan O'Brien, Michael Rooker, Jessica Henwick, Ariana Greenblatt
Dir: Michael Matthews
Distributor: Paramount Pictures
Running Time: 109 minutes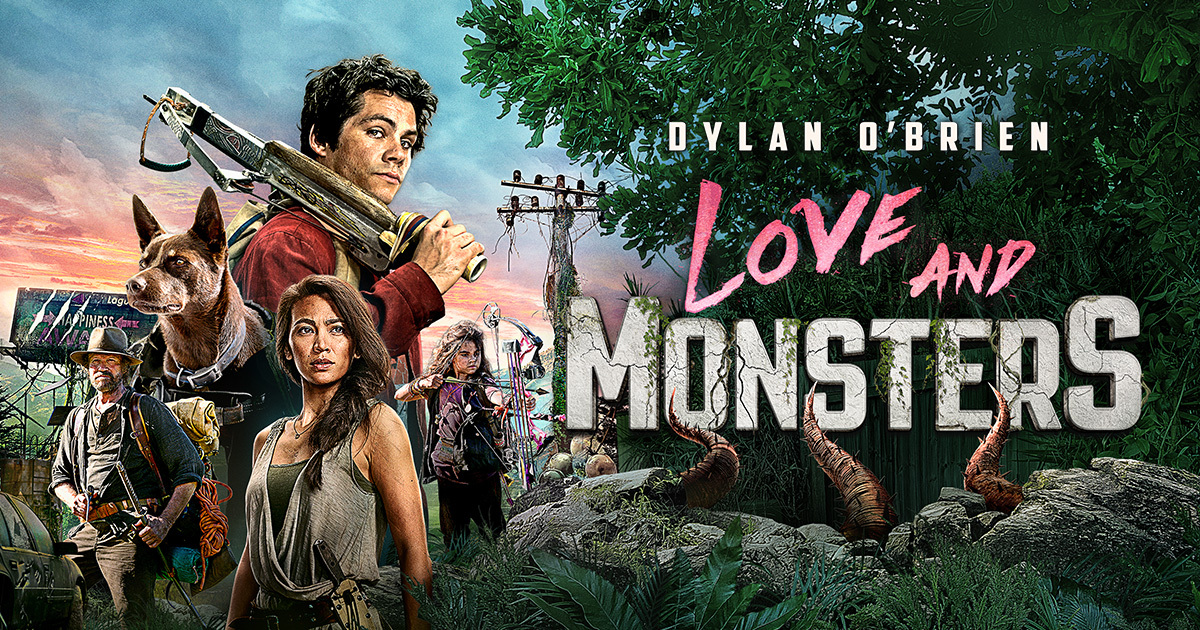 SYNOPSIS
Dylan O'Brien stars in this thrilling adventure delivering epic action and laughs. After monsters take over the world, Joel (O'Brien, The Maze Runner) and the rest of humanity are forced to live underground. Believing he's lost everyone he has ever loved, Joel finds his high school sweetheart Aimee (Jessica Henwick, "Game of Thrones") living just 80 miles away. Facing unknown dangers that stand in his way, Joel must discover his inner hero as he makes the impossible journey across a monster-infested land to be with the girl of his dreams. Also starring Michael Rooker (Guardians of the Galaxy) and Ariana Greenblatt (Avengers: Infinity War).
CASTING
Love and Monsters arrives with perfect timing in a COVID-19 climate that's given us a taste of what its protagonist's bunker life is like. There's fear, comfort, and the promise of another day in there, but it isn't living without love. Even with a supernatural/sci fi element, Dylan O'Brien delivers a relatable charming performance that keeps you invested–no different from the other projects in his filmography. He has an 'it' factor reminiscent of Jack Lemmon–Hollywood's Everyman. You don't know him, but he's someone you're confident you could be friends with. Thus, you root for him. And as a huge fan of his, I must say I've been immensely proud of his tenacity to deliver stunts and tasking performances after his life altering accident on the set of The Maze Runner: The Scorch Chronicles.
Michael Rooker adds a rugged element of reality and grit. His time on screen is succinct, purposeful and relieving in the scheme of a post-apocalyptic world. He's a familiar ingredient I was happy to have included. Jessica Henwick plays opposite of Dylan, yet holds her own with beauty, warmth, skill, natural timing and athleticism. I hadn't seen her in much prior to Love and Monsters, but am sure that will change.
OUR TAKE
Love and Monsters is the fun, relatable, uniquely familiar film many of us don't know we need in 2020. Themes question what the true value of living is, and also what love is worth the risk: familial, romantic, self? All of them? I approached this movie with cynicism because it looked like what I'd seen before. I figured it'd be silly and hollow. But the film had depth in its center–grief, doubt, loss, courage, anxiety, desperation, and heart–all things I found to address the heaviness plaguing humanity while pushing its audience in buoyance to the surface.
Special effects are impressive and the worldbuilding is nicely fleshed out. Pacing moves in a satisfactory rhythm that allows for character connection and high stakes. But this is where the film falls soft: its third act. The actors and film elements assist in preparing you for an anticipated third act that wrenches with a twist, but becomes somewhat predictable. It's decent, not quite right, and could've been greater, like enjoying a dessert till it becomes too sweet on the last spoonful. This is where the film became a sliver of the token monster films that made me a skeptic.
All in all, Love and Monsters has a heart that can't be denied, with actors that power much of its beat and flowing world. I'd be very much interested in returning to. What a pleasant surprise.
RATING
Pluses: Charming, optimistic, stellar and relatable actors, pacing, worldbuilding, love movies with a pre-climactic twist, casting
Minuses: Lackluster third act, some necessary plot details and questions go unaddressed
Rating: B+
-Review written by Tia